The Last Camel Died at Noon
Unabridged Audiobook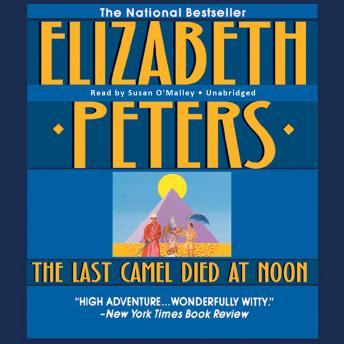 Duration:
13 hours 8 minutes
Summary:
Bestselling author Elizabeth Peters brings back nineteenth-century Egyptologist Amelia Peabody and her entourage in this delicious caper that digs up mystery in the shadow of the pyramids.

The last camel is dead, and Egyptologist Amelia Peabody, her dashing husband, Emerson, and her precocious son, Ramses, are in dire straits on the sun-scorched desert sands. Months before, back in cool, green England, Viscount Blacktower had approached them to find his son and his son's new bride, who have been missing in war-torn Sudan for over a decade. An enigmatic message scrawled on papyrus and a cryptic map had been delivered to Blacktower, awakening his hope that the couple was still alive.

Neither Amelia nor Emerson believes the message is authentic, but the treasure map proves an irresistible temptation. Now, deep in Nubia's vast wasteland, they discover too late how much treachery is afoot (and on camelback), and survival depends on Amelia's solving a mystery as old as ancient Egypt and as timeless as greed and revenge.
Genres: