Leadership Affirmations: Be one of the great game-changers, the emotionally healthy leaders and winners rising strong; dare to take the lead through the power of strength-based positive affirmations d
A free trial credit cannot be used on this title.
Unabridged Audiobook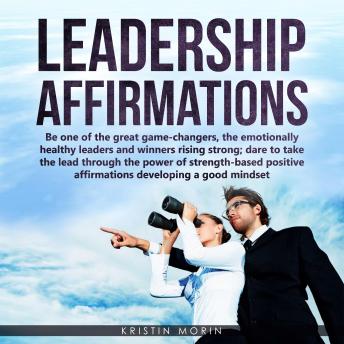 Duration:
4 hours 1 minutes
Summary:
If you find it challenging to clearly communicate ideas and strategies with your team, then keep reading.

Do you sometimes feel you're failing as a leader? Are you aspiring to a leadership role but lack assertiveness?

If you can change your mindset, you can become a great leader! Any great leader pushes people to be their best, clearly communicates his vision and is assertive and decisive.

Leadership Affirmations can help you achieve this. It contains affirmations that will help you change your mindset in order to:


- Take charge with ease no matter the situation.
- Improve your communication skills.
- Strengthen your self-confidence.

This audiobook contains more than 200 affirmations for you to listen to and repeat as often as you can. Research has proven that self-talk through repetition has a direct impact on your brain, affecting your thoughts, which then affect your mentality and ultimately your actions.

You will find affirmations such as:


- I am a great leader and I lead with confidence.
- People often look to me for advice
- I always make the necessary changes to obtain the results I want.
- I have great intuition.
- I always do better than I did yesterday.

Listen to these affirmations and repeat some of them on a daily basis. They will not only start to have an influence on your mind, but your actions will increasingly start to align themselves with the actions of a great leader.

If you're ready to positively change your mindset, take the lead with confidence and stand out from the crowd, then scroll up and select the 'Add to Cart' button.
Genres: