The Maid - A collection of four erotic stories
Abridged Audiobook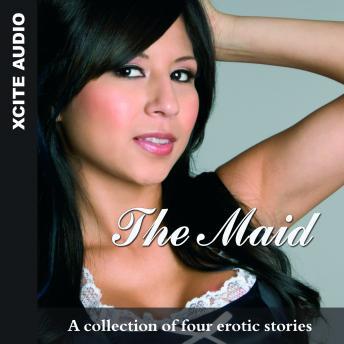 Duration:
1 hours 24 minutes
Summary:
A collection of four erotic stories with mixed and varied themes.

The Maid by Eva Hore
What should Sheila do when she sees her husband f**king the maid on the satin sheets of the marital bed? The fact that she's watching from the wardrobe, naked, while her boyfriend Marcus trys to grope her complicates the issue...

It takes one to spot one by Jim Baker
On board a luxury cruise, Peter catches Suzanne's eye, but he seems to be perpetually surrounded by wealthy widows. She manages to lure him away over a game of roulette, and over dinner she checks out his story...

Take a breath by Sommer Marsden
They may be at a business meeting, but all he wants to do is dominate this gorgeous woman with the whisky eyes. When she gives him the go-ahead, it's all he can do to control his own lust before they get to the cloakroom...

Collision by Alex de Kok
Jack runs right into Jenny - literally. He knocks her off her feet right beside the taxi rank. It's the least he can do to offer his ex student a lift to her cottage - Jack's far too much of a gentleman to let her model good looks enter the equation...
Genres: