Manifesting: A Planning System for Visual, Creative & Spiritual People
A free trial credit cannot be used on this title.
Unabridged Audiobook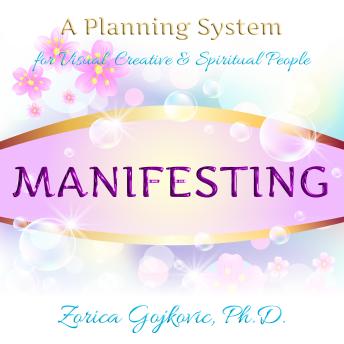 Duration:
1 hours 51 minutes
Summary:
A fun and easy spiritual planning system to help you organize your life, manifest your desires and improve difficult life situations.

Do you have trouble getting what you want? Do you have a hard time getting things done? Do you have difficult life situations that you don't know how to fix? Are you an artist or a spiritual person who needs to incorporate spiritual truth in planning and accomplishing things in life?

If so, this book is the answer to your needs.

The Planning System is a simple, fun, yet powerful method of planning that helps you create what you want, get things done and resolve difficult life challenges.

It is a planning system that includes all aspects of reality, physical and spiritual; it takes into account your intuition and soul purpose in planning everything you want to create and accomplish.

Manifesting works with the natural laws of the universe that include the understanding that you create with your thoughts, your beliefs; that each one of us has a purpose for being here; that to each one of us inner guidance is available from our divine self.

Working with these ancient truths, The Planning System will organize you, help you identify your highest truth, prioritize projects and move you to take action -- all the while staying connected to your intuition, to your deepest soul truth.

If you've yearned for something for a long time, but have put it off thinking it impossible to get, don't delay, make it a reality.

​If you've been troubled by a long-standing life issue, wait no longer, resolve it, move into freedom.

Allow yourself the joy and lightness of being, fulfillment and satisfaction.

Included is the guided meditation, Affirmations of Highest Truth.

A URL is provided where you can download the Quick Reference Guided and other tools.
Genres: