Manipulation Psychology: Learn Quickly The Secrets of Manipulation Techniques, Hypnosis, Body Language and Mind Control
A free trial credit cannot be used on this title.
Unabridged Audiobook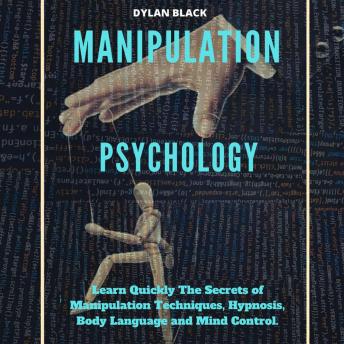 Duration:
3 hours 21 minutes
Summary:
Would you like to learn how to master the best NLP and psychology techniques and to be recognized as an influential individual whom everybody loves and is always ready to listen to? If you answered yes to the above questions, it is likely you currently have poor manipulative skills and are yet to learn the art of convincing and inspiring people.

An individual who regards himself as an influencer will often try to help a person in one manner or another but the manipulators are in the opposite since their purpose is to control their victims secretly for their own gain. Therefore, in determining whether or not a specific action is of a manipulative nature, intention is an important factor to consider.

It can be quite tricky to effectively deal with people, help them come on the same page as you and convince them to do what you wish. You can have ulterior motives that you wish to have fulfilled, but if they are positive and you do not intend to harm anyone, you are on the right track and there is nothing wrong with making others agree with you. However, how can you achieve that?

The answers to that question are locked within this audiobook, a handy guide that provides you with the following content:

• Codes of Influence

• Lying

• Denial

• Strategies of Manipulation

• Persuasion

• Deception

• Body Language Codes

and much more!

This book is also written for those that want to wield immense power with merely their words. The process of leading another to make certain decisions is really what this is about. There are many areas in life where this is not only beneficial but necessary. We don't realize what is taking place in these areas because of it being so common.

What are you waiting for?

Grab your copy now and explore the benefits of this book!
Genres: