Manipulation Secrets: How a Manipulator Tries to Turn You into a Slave Who They Can Order Anything From. Mind Control Techniques, NLP, Dark Psychology and Manipulation
A free trial credit cannot be used on this title.
Unabridged Audiobook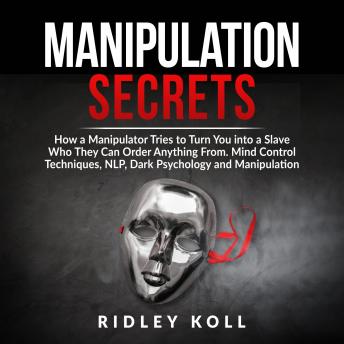 Duration:
5 hours 36 minutes
Summary:
The psyche is the place where our thoughts, ideas, and emotions are located. Understanding that humans are governed by emotions will help you understand how powerful dark psychology can be. Listen to this audiobook and find your answers.

Yes, you can influence people without saying a word! Here's how!

Emotions influence your decisions, and, as a result, determine your actions. It is very difficult to find people who can keep a detached point of view about their lives and what happens to them. For this reason, most of us cannot analyze our surroundings without being influenced by feelings. With this book, however, you will learn to do it.

Even if you don't yet know anything about body language and neuro-linguistic programming, this book will help you distinguish between selfless persuasion and an attempt at subliminal manipulation.

You will discover and understand if, for example, your romantic relationship is healthy, or, on the contrary, you are inside a trap of a dark seducer. This book will provide you with the tools to get your spaces back and free yourself from addiction as long as you have the chance.

In Manipulation Secrets, you will reach your goals, and find the following topics, among other:


- Introduction to emotional intelligence
- What NLP is and its uses
- Hypnosis and manipulation
- What body language is
- Emotional manipulation
- And much more

Stop wasting your time, and learn how to use the power of manipulation to your advantage today. Buy this audiobook now!
Genres: