Mega Mind Power: Hypnotize Yourself for Mental Mastery
Unabridged Audiobook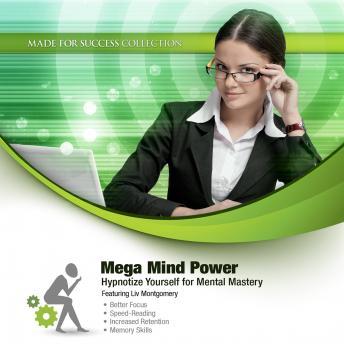 Duration:
10 hours 57 minutes
Summary:
Includes a bonus DVD and a PDF workbook
Relax yourself to a state of higher mental performance!
Could you use an extra boost of brain power? This breakthrough audio program is designed to help you get your mind into an enhanced learning state through an easy-to-use system. This scientifically proven process will help you increase receptiveness to learning new information, recall facts, focus, and understand new concepts. Whether you want to better remember where your car keys are or read faster, this mind performance system will take you on a journey of discovery to tap the latent part of your brain using hypnosis and mind music for relaxed study to help you learn fast.
Kept lively and entertaining by certified hypnotherapist Liv Montgomery, this product includes a hypnosis program, instructional audio, and relaxing music embedded with binaural beats to help your mind take in new information. Proven safe through decades of use, binaural beat frequencies help you attain a highly focused state. Get it now!
Genres: