Men at Work - A collection of five erotic stories
Unabridged Audiobook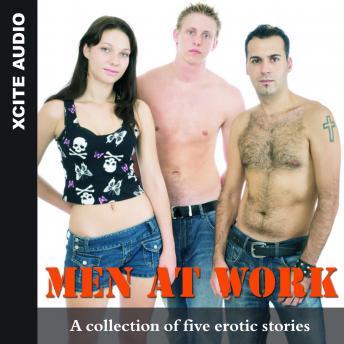 Duration:
1 hours 20 minutes
Summary:
A collection of five erotic stories with mixed and varied themes.

Men at Work by Elizabeth Cage
Matt's a workaholic. It's driving Emma crazy, but she's sure that their new loft room will mean they see more of each other. She has two young builders working overtime to get the work done. The night they finish, Emma is ready to celebrate with high heels and a f**k-me dress...

Persuasion by Everica May
Professor West's classes have always provided the most stimulating thoughts. Miss Rifkin has spent plenty of time fantasizing about her shaven-headed tutor. At last she makes an appointment to discuss her grades - surely there's a way she can win extra credit?

Driftwood by D J Kirby
Heidi loves her life. Single, solvent and happy with solitude, on a Friday night there's nothing she loves more than a walk on the beach. In the warm evening sea breeze there's plenty of scope for people watching - and some of those people are enjoying each other al fresco...

The Eye by Primula Bond
It's hard to be alone in London. Even when she gets up at the crack of dawn to take photos of the view from the Eye, there turns out to be another passenger in the pod with her. Lucky he's handsome...

Life of a Salesman by Landon Dixon
He's always admired Jennifer's bountiful breasts. On the last night of the sales convention, he decides to take charge. Insisting that Jennifer joins him for dinner...
Genres: