The Mendacity of Hope: Barack Obama and the Betrayal of American Liberalism
Unabridged Audiobook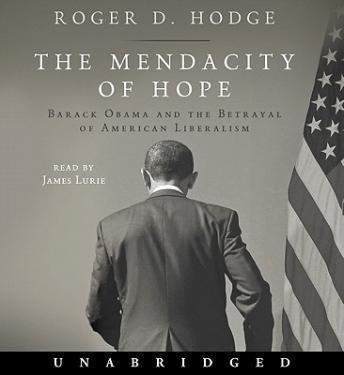 Duration:
7 hours 26 minutes
Summary:
A fearless and incisive manifesto that exposes the real causes of President Obama's failure to enact liberal reform, by the former editor of Harper's Magazine

Americans find themselves in genuine confusion and dismay concerning the actions of President Obama's administration, especially when it comes to the financial crisis and health care. Obama's reform packages, passed with great fanfare, ignore the most significant perils facing the United States. In The Mendacity of Hope, Roger D. Hodge makes the provocative case that substantive reform was never even on the table. Behind the euphoria of Obama's victory was in fact a business-as-usual corporate machine, a bloc of political investors, campaign contributors, and lobbyists expecting big returns on their investments. And what a return they have received: in one bailout after another, for the health insurance industry as well as for Wall Street, Obama made sure that the Democratic Party's most powerful investors made out like bandits.

None of Obama's most important campaign promises'ending the Iraq war, abolishing torture, closing Guant'namo, changing Washington's culture of corruption'has come to pass. Instead, he has escalated the conflict in Afghanistan, bailed out the bankers, and institutionalized the civil rights abuses of the Bush regime.

Another president might have played the forces of corporate interest differently, but Hodge argues that the fantasy of American politics is that a different kind of president is possible without a fundamental reform of our political system. Americans bought into the delusion that one man could bring change to Washington, but instead of reform we've seen a continuation of George W. Bush's assault on the Constitution. Obama's presidency has demonstrated that mere hope is never enough, that change will come only when the American people take charge of their own politics. A brilliantly crafted call to arms, The Mendacity of Hope offers an essential analysis of the American political system and the powerful interests that control our government.
Genres: