The Navy Lark: Collected Series 14
Unabridged Audiobook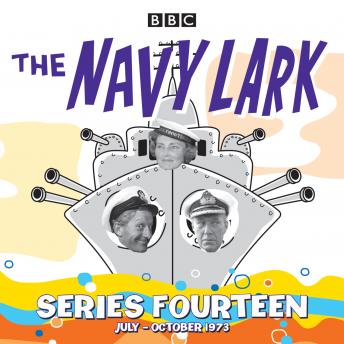 Duration:
7 hours 0 minutes
Summary:
All thirteen episodes from Series 14 of the classic BBC radio nautical comedy – plus a bonus show, Jon Pertwee's Sketchbook.

This much-loved classic comedy series stars Jon Pertwee, Leslie Phillips and Stephen Murray in 13 episodes of mirth and mayhem, first broadcast in 1973. This CD set includes the episodes The Montezula Revolution, The Island Swordfish, Bunged in the Rattle, Kangaroo Polka, The Digital Isles Go Unstable, Egbert Hitches a Ride, Povey – An Admiral at Last, The Bergholm Horse Trials, Captain Povey's Wig, The Brain Pill, Operation Showcase, CPO Pertwee – Yachtmonger and The Talpinium Shell. In addition, there's a bonus programme, Jon Pertwee's Sketchbook, featuring favourite comedy clips chosen by Jon Pertwee.

Also included is a PDF booklet containing a detailed history of the development of this series of The Navy Lark, cast biographies, and a series episode guide.

Featuring Richard Caldicot, Heather Chasen, Tenniel Evans and Michael Bates, it's all aboard for more entertaining escapades with the Troutbridge crew.Duration: 7 hours approx.
Genres: