The News Quiz: Series 89: Eight episodes of the BBC Radio 4 topical comedy panel show
Unabridged Audiobook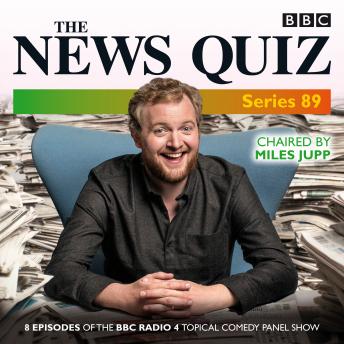 Duration:
4 hours 0 minutes
Summary:
Miles Jupp presents eight episodes of the topical BBC Radio 4 comedy panel show.

The long-running satirical panel show that inspired Have I Got News For You returns for its 89th series, tackling the big (and not so big) events that have been making the headlines.

In these eight episodes, players poking fun at the news include FrancisWheen, Susan Calman, Zoe Lyons, Hugo Rifkind, Lucy Porter, Sarah Kendall, Jeremy Hardy, Samira Ahmed, Rich Hall and Steve Lamacq.

Using their considerable comedic talents, they dissect topics as varied as the forthcoming EU referendum; the junior doctors' strike; the controversy over Oxford University's Cecil Rhodes statue, the US election front runners and the Met Police's idea of using eagles to intercept drones.

Keeping the panellists in order is chairman Miles Jupp, while newsreaders including Kathy Clugston, Susan Rae, Diana Speed and Zeb Soanes read a selection of the funniest cuttings sent in by listeners.

Duration: 4 hours approx.
Genres: