Noir: Three Novels of Suspense
Unabridged Audiobook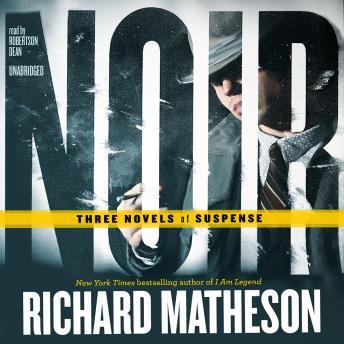 Duration:
12 hours 50 minutes
Summary:
Noir contains three classic thrillers by Richard Matheson, the grand master of suspense. Originally published in the 1950s, at the very beginning of Matheson's distinguished career, these page-turning classics are finally on audio for your listening pleasure. Now listeners everywhere can savor three unforgettable tales of crime, corruption, and cold-blooded murder.

Someone Is Bleeding

Dave Newton has fallen hard for Peggy, a leggy blonde with a lurid past and a heartbreaking smile. But as bloody corpses begin to litter his path, Dave is forced to confront the terrifying possibility that the woman he loves is a deranged killer.

Fury on Sunday

In the wee hours of a fateful Sunday morning, a homicidal maniac embarks on a rampage of terror and violence that threatens everyone who crosses his path, culminating in a deadly confrontation in a Manhattan apartment building.

Ride the Nightmare

Chris and Helen have the perfect suburban life—until Helen discovers her husband's guilty secret. Overnight, their peaceful existence descends into a vortex of fear and brutality that may cost them the life of their only child.
Genres: