One Song at a Time: Tales from the Kerrville Folk Festival
Unabridged Audiobook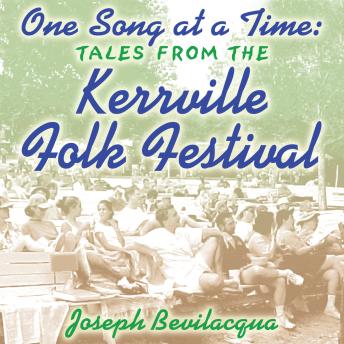 Duration:
1 hours 1 minutes
Summary:
Founded by Rod Kennedy, the Kerrville FolkFestival has run annually since 1972. It is the longest continuously runningmusic festival of its kind in North America. For eighteen straight days andnights each May and June, over thirty thousand guests come from all over theworld to experience the magic of what the folks there simply call "Kerrville."The festival is known internationally as a mecca for singer-songwriters ofvarying musical styles. It's a place where those just developing their skillshave the opportunity to play their music alongside master craftsmen.
Over 1,500outstanding singer-songwriters have been presented on the festival's stagessince the beginning. More than just a "folk music" festival, Kerrville offersmusic of many styles, including traditional folk, bluegrass, acoustic rock,blues, country, jazz, and Americana. The common thread is songwriting. Thefocus of the festival is to promote emerging artists while giving the audienceexposure to both new and recognized, seasoned talent. Major-label artists suchas Lyle Lovett, Willie Nelson, Michelle Shocked, Mary Chapin Carpenter, RobertEarl Keen, Lucinda Williams, and Nancy Griffith played Kerrville early in theircareers. Through the years, the Kerrville stage has seen other nationally knownartists like Peter Paul & Mary, Judy Collins, Janis Ian, and Arlo Guthrie,while others such as singer/songwriter/actor Ronny Cox play on the stages anygiven year.
Producer Joe Bevilacqua and his wife, Lorie Kellogg, camped out atthe festival for five days to create this hour-long collage.
Genres: