Our Last Best Chance: The Pursuit of Peace in a Time of Peril
Unabridged Audiobook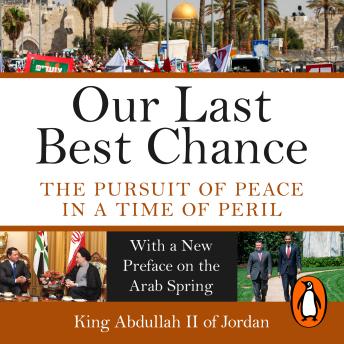 Duration:
14 hours 37 minutes
Summary:
The unabridged, downloadable audiobook edition of Our Last Best Chance: The Pursuit of Peace in a Time of Peril, the newsbreaking memoir from Jordan's King Abdullah II revealing the secret, high level negotiations that could soon transform the map of the Middle East. Read by the actor Nadim Sawalha.

When a dying King Hussein shocked the world by picking his son rather than his brother, the longtime Crown Prince, to be the next King of Jordan, no one was more surprised than the young head of Special Forces who discovered his life was in for a major upheaval. In this exceptionally candid memoir, King Abdullah tackles the single toughest issue he faces head on - how to solve the Israeli-Palestinian standoff - and reveals himself to be an invaluable intermediary between America and the Arab world. He writes about the impact of the Iraq war on his neighborhood and how to confront the threat from Iran. This is the inspirational story of a man who went to boarding school in America and military academy in Britain, and grew up believing he would be a soldier. Back home, he hunted down terrorists and modernized Jordan's Special Forces. Then, suddenly, he found himself king.

Together with his wife, Queen Rania, King Abdullah transformed what it meant to be a monarch, going undercover to escape the bubble of the court while she became the Muslim world's most passionate advocate of women's rights. Why would a sitting head of state choose to write about the most explosive issues he faces? King Abdullah does so now because he believes we face a moment of truth: a last chance for peace in the Middle East. The prize is enormous, the cost of failure unimaginable.
Genres: