"Patti Issues" and "Bad with Money"
Unabridged Audiobook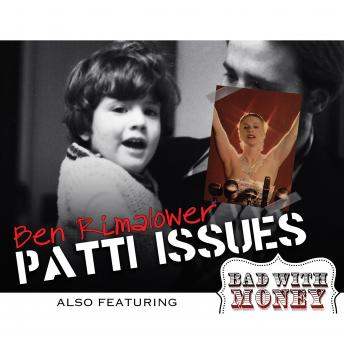 Duration:
1 hours 59 minutes
Summary:
Ben Rimalower's one-man plays "Patti Issues" and "Bad with Money" have been taking the country by storm, and now for the first time, they are available with this live recording, When Ben Rimalower was eight years old, his father came out of the closet and embarked on a drug-fueled tear that left his family in tatters. 

Amid the chaos of his young life, Ben found comfort-like so many gay boys before him and after-in musical theater, and specifically in the transportive voice of Broadway star Patti LuPone.  

"Patti Issues" marks Rimalower's debut as a playwright and performer, after serving as the director of numerous Off-Broadway plays, concerts, and all-star benefits (and blogging for the Huffington Post). With a mix of comic irreverence, stark candor and show-biz bravado, "Patti Issues" poignantly explores the challenges facing LGBT parents and children while shining unique light on gay men's time-old obsessions with divas. The New York Times raved, "

"A tight hourlong monologue that pairs a well-honed script with an engagingly spontaneous delivery and a nose for sharp, observational comedy, Mr. Rimalower's funny, tender reminiscence rides an infectious rainbow high."

Some of the various awards the plays have won are the 2013 M.A.C. Award for New York Debut, 2013 Bistro Award for Solo Play, "Critics' Pick" recognition from The New York Times, Time Out New York, The Stage (London), Time Out Chicago, "Best of New York Theater - 2012," and many more. 
Genres: