Rapid Weight Loss Hypnosis For Women: Lose weight naturally fast through meditation techniques, hypnosis, hypnotic gastric band and improve mindful eating
A free trial credit cannot be used on this title.
Unabridged Audiobook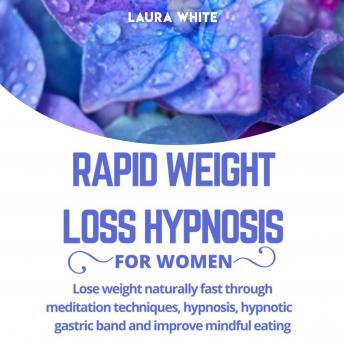 Duration:
3 hours 22 minutes
Summary:
Do you want to learn a healthy and effective technique for losing weight and having more energy?Have you ever imagined yourself as attractive, thin and free from any pain caused by excessive weight? If you said yes to any of the above questions, then look no further because all of the details you need to know about losing weight effectively can be found in this audiobook. This audio is written to help you approach weight loss in a very effective way. Instead of fighting against your desires and habits, you can quickly use hypnosis to forget your cravings, master portion control and build many other fat-melting habits.

 The topics you will find in this audiobook include the following:


- What Hypnosis is
- Importance of Hypnosis For Women
- Hypnosis and Weight Loss Meditation To Burn Fat
- Gastric Band Hypnosis
- Mindful Eating: Foods To Avoid
- Positive Affirmations
- Power of Affirmations and The Law of Attraction
- How to Increase Your Metabolism With Hypnosis
- Use Your Mind to STOP Emotional Eating
- The Power of Self-Suggestion
- Methods of Self-Suggestion

Hypnosis it's a powerful technique that can heal your body image issues, make you stop overeating and fix your mind. Losing weight through the use of hypnosis is the only way to get in touch with the inner part of you that is invariably struggling with weight issues. By giving serious consideration to the content of this audiobook, you will have an idea of what is needed to heal your mind, body and soul in order to get the things that you desire from your life. Accepting your body and changing it for your own benefit will help you boost your self-confidence and self-esteem.

Are you ready to enjoy the fully packed benefits of this audio?

Take a step now! Grab your copy now and get started right away!
Genres: