Real Estate Agent: Not Only Professionalism. Develop 7 Key Aspects of Your Career and Find Out What People Really Need From a Real Estate Agent
A free trial credit cannot be used on this title.
Unabridged Audiobook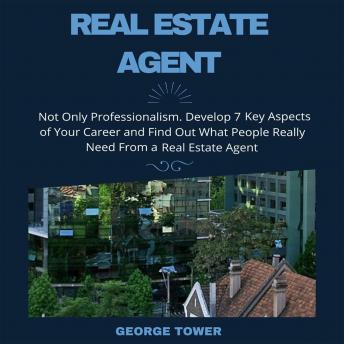 Duration:
3 hours 8 minutes
Summary:
Are you desirous of becoming successful as a Real estate agent? Are you already in the industry and would like to grow your real estate business?
In this audiobook, you will learn amazing lead-generating strategies to grow your business. Additionally, it provides you with the essential quality that all successful Real Estate Agents have that others don't. From ways of getting leads and listings to tried-and-true strategies used by Real Estate experts, listeners will get started on the right foot to ramp up in Real Estate agencies. This audio shows you how to think big, aim high and act boldly. It explores the models you need to put in place and then shows you step by step how to implement them.

 

Some of the topics include:


- Legal requirement to become a Real Estate Agent
- Laying out the blueprint
- Positioning yourself against other agents
- Designing the client experience
- Sales expertise
- Marketing principles
- Understanding the facts that control every Real Estate market
- Sustained business planning
- Be available for your clients
- Problem-solving
- Get leads any way you can
- Work your sphere of influence
- Track everything in a database


Welcome to the world of Real Estate sales, and the start of an exciting new career as a Real Estate Agent! Your destiny is now in your hands. This audiobook contains the essential knowledge you need to start off right in today's vastly changed Real Estate market, avoid common mistakes, and get the inside edge that will take you to the top.

 If you're a newer agent or someone who has hit a roadblock, or desirous of getting to the next level, this audio is for you!

 

Grab your copy now and get started right away!
Genres: