Rich In Heaven: What Matters Most Is More Than Money
A free trial credit cannot be used on this title.
Unabridged Audiobook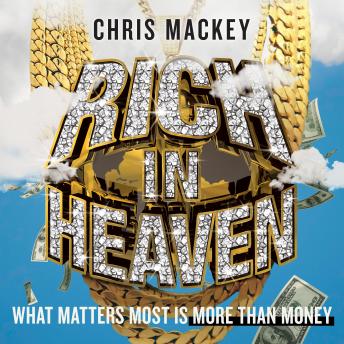 Duration:
7 hours 56 minutes
Summary:
Don't settle for less than the Kingdom.

You know what you need to do. Make more. Spend less. Get on a budget. Pay down debt. Invest for the future. Oh, and tithe--don't forget to tithe. If we're really holy, we'll take our money goals and ask God to bless them. His plan for us is to prosper, right?

Rich in Heaven dares to ask what comes next for the First World Christian, inviting you on a biblical journey exploring the stance Jesus takes on the almighty dollar. Chris Mackey is down-to-earth, humorous, and thought-provoking, going beyond economic principles to tackle the topic of wealth from a heavenly perspective.

What does your financial outlook say about your God? This exposé on the true riches of faithful stewardship doesn't let anyone off the hook, addressing how to manage prosperity in light of the Gospel. You will discover the currency of the Kingdom, what the Bible really says about wealth, and what it will look like when you're Rich in Heaven.
Genres: