Self-Discipline in Difficult Times: The Guide to Improving Your Life in Difficult Times, Managing to Dominate Your Mind to Achieve Your Goals
A free trial credit cannot be used on this title.
Unabridged Audiobook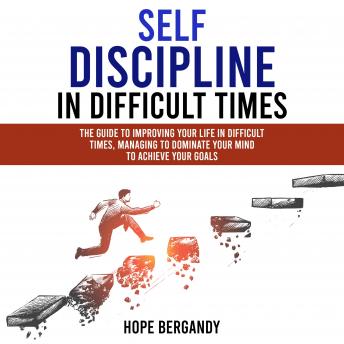 Duration:
2 hours 55 minutes
Summary:
Would you like to face difficult moments better and find your serenity?

If you've answered YES,

Let This audiobook Show You Exactly How To Have Enviable Levels Of Self-Discipline, Grit, Will Power And More To Say No Any Challenges You May Face Along The Way So You Can Translate Your Wishes, Plans And Goals To Reality!

Self-discipline has many benefits for us, but the focus of this audiobook, will be regarding difficult situations and attaining goals.

Everyone deals with major challenges at some point in their lives. Some experience it more than others due to a variety of factors. The common denominator is that those who overcome and persevere are the individuals who don't lack discipline. 

MORE PRECISELY, YOU WILL LEARN:


- The basics of self-discipline, including what it is and why it is an important habit of successful people
- How having poor self-esteem can make situations worse. 
- How self-discipline manifests itself in successful people
- The things that may be stopping in your way of becoming self-disciplined and what to do about each one of them
- How to build your mental toughness to say no to anything
- How to boost your attention span to ensure you never struggle with distractions again
- Powerful exercises and techniques that will help you build self-confidence
- Why people with self-discipline are more resilient and able to handle what life throws at them.
- And much more!

Self-discipline is an essential skill that is often overlooked. However, once you develop good self-discipline, you will notice massive improvements in many areas of your life. 

If you are excited about the topic of self-discipline and how it can help you, get a copy of this audiobook and begin learning and utilizing the theories and action steps set forth in every chapter. 
Genres: