The Shroud Codex
Unabridged Audiobook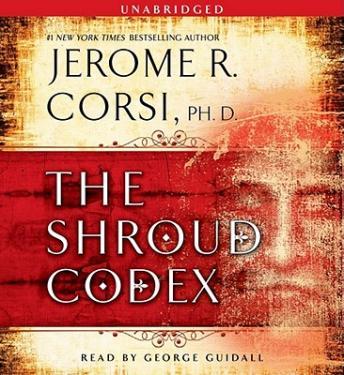 Duration:
9 hours 0 minutes
Summary:
After a New Jersey priest has a near-death experience he begins to resemble the image depicted on the Shroud of Turin, prompting a skeptical Vatican representative to investigate the claim and subsequently question the assumptions he has held for so long.

THE PRIEST…

Brought back to life on an operating room table, Father Paul Bartholomew is haunted by visions of Christ as Golgotha. Then, as he celebrates Mass, blood starts running down his arms. The horrified congregation watches him collapse, his vestments soaked in the blood pouring from wounds on his wrists. Mysteriously, he now resembles in almost every physical aspect the Christ-like figure represented on the Shroud of Turin.

THE SKEPTICS…

Worried lest Bartholomew's case be proved a hoax, the Vatican employs two prominent scientists to investigate. Dr. Stephen Castle, an American psychiatrist, is renowned for his book arguing that religion is a figment of human imagination. Professor Marco Gabrielli, an Italian religious researcher and chemist, has made a career of debunking supposed miracles, of explaining the unexplainable.

THE MIRACLE…

For centuries, the Shroud of Turin has defied science. Is this ancient remnant truly Christ's burial cloth, or the biggest fraud ever perpetrated? When the priest's uncanny resemblance to the picture on the Shroud prompts Castle and Gabrielli to investigate the artifact itself, each is finally forced to face mysteries reason alone cannot explain—in a journey of discovery that plumbs the farthest reaches of science and the human spirit.
Genres: