The Silencing
Unabridged Audiobook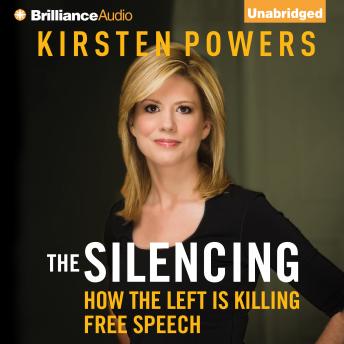 Duration:
8 hours 13 minutes
Summary:
FREE SPEECH and freedom of conscience have long been core American values. Yet a growing intolerance from the left side of the political spectrum is threatening Americans' ability to freely express beliefs without fear of retaliation. USA Today columnist and Fox News contributor Kirsten Powers calls it "The Silencing."

Powers chronicles this forced march toward conformity in an exposé of the illiberal tactics deployed to shut down debate on some of the most important issues of the day. While preaching tolerance and claiming to hold liberal values, the "illiberal left" works to delegitimize political and ideological opponents in ways that stifle freedom of expression, thought, and religious belief.

In The Silencing, Kirsten Powers, herself a proud liberal-but from a far more tolerant Jeffersonian tradition-exposes the illiberal left. You'll learn:

- Why the illiberal left has become an Orwellian "big brother," policing what it deems acceptable speech and opinions

- How the illiberal left is obsessed with delegitimizing Fox News

- How illiberal left pundits-even self-proclaimed ""feminists"" (and Powers names names)-engage in outrageously misogynistic and sexist dismissals of their female opponents

- How illiberal colleges and universities limit freedom of expression to tightly regulated "free speech zones" and ban speakers (even liberals) with whom the illiberal left disagrees

- How "truth" matters little to the illiberal left, for whom ideology is everything

How is it that liberalism, once associated with open-mindedness and reason, has become a vehicle for irrational prejudice, ideological conformity, and the marginalization and punishment of alternative opinions? Kirsten Powers chronicles this troubling trend in perhaps the most important-and chilling-political audiobook of the year.
Genres: