Snowfall: Dynasty of Storms IV: The Mage's Trilogy, Book 1
A free trial credit cannot be used on this title.
Unabridged Audiobook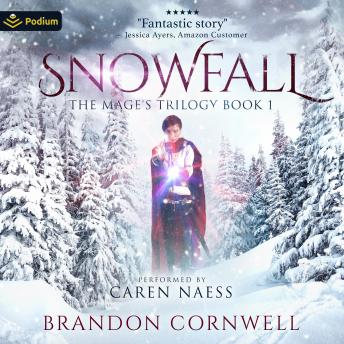 Duration:
12 hours 3 minutes
Summary:
Obedience. Duty. Conformity. Poise. As firm and unyielding as any iron bar, they form a cage more secure than a prison cell.

When the messenger came to the castle, everything changed for Amethyst, the only child of the king. Of all the elves in Lonwick, she alone was worthy to be the apprentice to the Master of Earth, one of the eight most powerful wizards on Erde. Now she has the power to change her destiny, to take her life into her own hands and mold it into something exciting, something real.

Unfortunately, the world outside of her father's kingdom had little interest in her continued survival. If she is to take her place as Apprentice, she will need all her wit and cunning to survive.

Life in the powerful Council of Masters is full of danger, from both within and without. Can she learn to navigate the treacherous politics of the Council of Masters? Is the power worth the price she must pay? And why are the orcs, trolls, and ogres suddenly rising up against the people of Lonwick?
Genres: