Socrates in the City: Conversations on 'Life, God, and Other Small Topics'
Unabridged Audiobook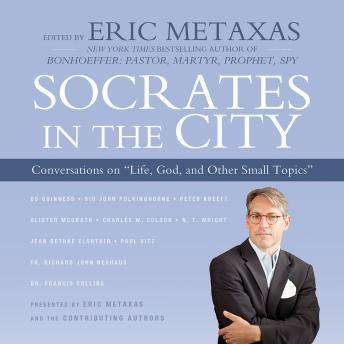 Duration:
14 hours 57 minutes
Summary:
Following the extraordinary success of the New York Times bestseller Bonhoeffer, Eric Metaxas' latest book offers inspirational and intellectually rigorous thoughts about the great questions surrounding us all today.
The Greek philosopher Socrates famously said that "the unexamined life is not worth living." Taking this as a starting point, Eric Metaxas founded a speaking series that encouraged busy and successful professionals to attend forums and think actively about the bigger questions in life; thus Socrates in the City: Conversations on "Life, God, and Other Small Topics" was born.
This book is for the seeker in all of us, the collector of wisdom, and the person who asks, "What if?" Within this collection of original essays that were first given to standing-room-only crowds in New York City are serious thinkers taking on Life, God, Evil, Redemption, and other small topics. Luminaries such as Dr. Francis Collins, Sir John Polkinghorne, Rabbi Sir Jonathan Sacks, N. T. Wright, Os Guinness, Peter Kreeft, and George Weigel have written about extraordinary topics vital to both secular and Christian thinking, such as "Making Sense out of Suffering," "The Concept of Evil after 9/11," and "Can a Scientist Pray?" No question is too big—in fact, the bigger, the harder, the more complex the better. These essays are both thought-provoking and entertaining, because nowhere is it written that finding answers to life's biggest questions shouldn't be exciting and even, perhaps, fun.
Genres: