Sticky Notes - A collection of five erotic stories
Unabridged Audiobook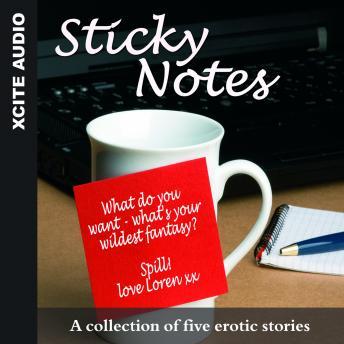 Duration:
1 hours 36 minutes
Summary:
A collection of five erotic stories with mixed and varied themes.

Sticky Notes by Sommer Marsden
Something's got Loren so horny she's squirming - but Steven's got an early night. Inspiration strikes in the form of a post it note - she leaves a brazen message on his morning coffee pot...

Visions of Marlon by Dineen Riordan
Summer heat can do strange things to people. It can turn a hunky bricklayer into a vision of the young Marlon Brando, and the woman that watches him into a voyeur who fantasises about cheating on her puritan husband...

Upside down with a tub of Yoghurt by Sally Quilford
Charity is intent on corrupting her beautiful fiance Ben. Even if the setting is a weekend away in a cottage with his apparently religious and uptight family - including Uncle Jack the Reverend!

Cocksucker by Lori Selke
Her boyfriend is a shy boy. He's nervous about telling her what he wants. She's curious, too: why exactly does he want to suck her fake dildo-dick?

On the Beach by Primula Bond
A deserted sandy beach is the perfect spot for a little nude sunbathing. And a bit of sunbathing so easily turns into a bit of teasing...
Genres: