The Texas Millionaire's Runaway Wife
Unabridged Audiobook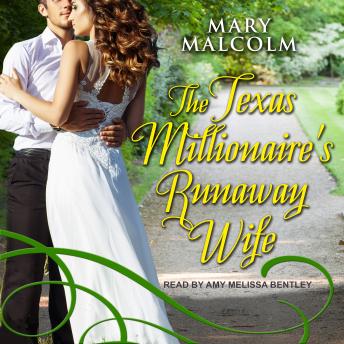 Duration:
5 hours 56 minutes
Summary:
Cassie Sands, devoted sister, aunt, and owner of Just Desserts, falls in love with a man she believes is struggling just like her, only to find out after they're married that he's actually the millionaire son of a powerful Texas mogul . . . and that he wants to hide their relationship.

She vows never to see him again. A month later she finds herself needing help only he can provide.

Stephen Sands has always had the responsibility of being the oldest son of a Fort Worth Magnate. In spite of his auspicious upbringing, he falls for a woman he hopes values him for himself instead of his family name or money.

That all changed the minute his wife, Cassie, left him the day after their wedding.

Now Stephen wants nothing more than revenge against Cassie for the only thing he'd never given before-his heart.

Can Stephen and Cassie overcome blackmail, thoughts of revenge, and lies to find the love that brought them together in the first place?

Contains mature themes.
Genres: