THE ARMY OF HUMAN BODY: The Guardian Of Human Body
A free trial credit cannot be used on this title.
Unabridged Audiobook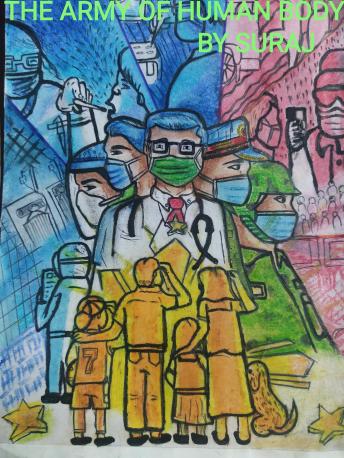 Duration:
0 hours 3 minutes
Summary:
Today's Days are of global pandemic.These days the human is suffering from a disease know as the COVID-19. THIS DISEASE HAD COME IN 2020 BUT TILL NOW THE EFFECTIVE VACCINE IS NOT PREPARED.BUT WE ARE PROTECTED BECAUSE THE ARMY OF THE HUMAN BODY HAD BECAME A BARRIER FOR THE VIRUS.THE ARMY OF THE HUMAN BODY IS GREAT AND WE HAVE TO SALUTE IT WE HAVE TO KEEP THIS ARMY SUPPORTED WITH BETTER HYGIENE.

IN THIS BOOK WE HAD DISCUSSED THAT HOW THE BODY PREVENT THE PATHOGENS

WRITTEN AND NARRATED BY SURAJ KUMAR.


THIS AUDIOBOOK MAY INCLUDE INFORMATION REGARDING THE COVID-19 PANDEMIC. INFORMATION RELATED TO COVID-19 CONTINUES TO EVOLVE. AUDIOBOOKS.COM ENCOURAGES YOU TO SEEK UP-TO-DATE INFORMATION AND GUIDANCE FROM YOUR LOCAL PUBLIC HEALTH UNIT.
Genres: