To Fly an Eagle - A collection of five erotic stories
Unabridged Audiobook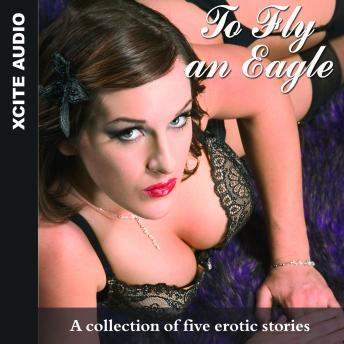 Duration:
1 hours 10 minutes
Summary:
A collection of five erotic stories with mixed and varied themes.

'To Fly An Eagle' by J Manx
Every new generation thinks it invented sex anew, and every old one quietly smiles and thinks, "if only you knew." A grandma recalls her first flying lessons with a handsome American pilot. Well, he called it flying.

'Fire Down Below' by Landon Dixon
A Peeping Tom Park Ranger gives a suitable reprimand to a couple of skinny dipping campers, only to discover that he's not the only horny fire-watcher who knows how to use a pair of binoculars.

'Insomnia' by Karyn Winter
Sleeplessness is a bitch to beat, but it's even worse if the only thing you want in the world is an orgasm… the one thing that your partner has decided you cannot have.

'Candle Light' by January James
It's hard when you're just starting up your own business. But the man who's waiting at home for you is going to be even harder. Tuesday makes amends to her husband for her absences.

'Meeting Mister M' by Evalina Frances
Two online lovers meet for the first time, and find out that sometimes, real life beats the fantasy hands-down.
Genres: