Tour of Duty
Abridged Audiobook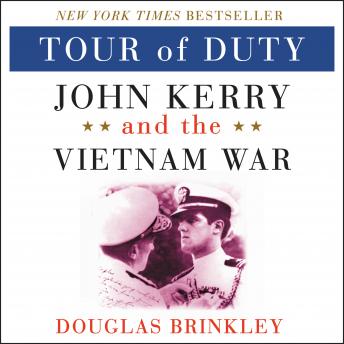 Duration:
5 hours 32 minutes
Summary:
One of our most acclaimed historians explores the decorated military service of one of America's most intriguing politicians—the leading Democratic presidential candidate for 2004—and its profound effects on his career and life

In Tour of Duty, Brinkley explores Senator John Kerry's career and deftly deals with such explosive issues as U.S. atrocities in Vietnam and the bombing of Cambodia. Using new information acquired from the recently released Nixon tapes, Brinkley reveals how White House aides Charles Colson and H.R. Haldeman tried to discredit Kerry. Refusing to be intimidated, Kerry started running for public office, eventually becoming a U.S. Senator from Massachusetts.

Covering more than four decades, this is the first full-scale definitive account of Kerry's journey from war to peace. In writing this riveting, action-packed narrative, Brinkley has drawn on extensive interviews with virtually everyone who knew Kerry well in Vietnam. Kerry also relegated to Brinkley his letters home from Vietnam and his voluminous "war notes" journals, notebooks, and personal reminiscences written during and shortly after the war. This material was provided without restriction, to be used at Brinkley's discretion, and has never before been published.
Genres: