Ultimate Thinking (All-in-One) (Extended Edition): Stop Negative Thinking, Critical Thinking, Dark Psychology
A free trial credit cannot be used on this title.
Unabridged Audiobook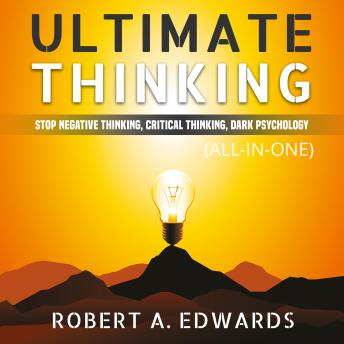 Duration:
13 hours 54 minutes
Summary:
Are you noticing the negative vibes that affect not only you but everyone around you?

Maybe you have been recently wondering how to clear your mind and you wanted to stop yourself from thinking negatively?

Or perhaps you've been wishing to learn and be a great critical thinker to make good decisions?

You could even have no idea about dark psychology, but you have been looking into ways to influence people with persuasion and protect yourself from manipulation!

The good news is, all this information can be yours because Ultimate Thinking (All-in-One) has everything you need and so much more, all packed into one well-written and clearly explained book.

After all, isn't it time to let go of the negative mind-set that has been keeping you from experiencing true happiness and peace?

This book discusses everything you could want to know about negative thinking, dark psychology and critical thinking, from learning how to let positivity into your life, going into greater detail on how you can convert your goals into truth when you become a critical thinker.

But here is where this book differs from others. Not only does this book provide you with information on emotion and psychology itself, but it also teaches you how being a critical thinker is important and how to battle your inner critics and self-judgments.

Inside Ultimate Thinking (All-in-One), discover:

● The actions to unburdening yourself from perfectionist thoughts

● The barriers to critical thinking

● The different ways to identify a psychopath

● Neurolinguistic programming and how to handle difficult people

Those are just some of the essential and important topics covered in this book!

What are you waiting for? Pick up a copy today and Learn to understand your thoughts and take charge of your mind!
Genres: