Unlikeable
Unabridged Audiobook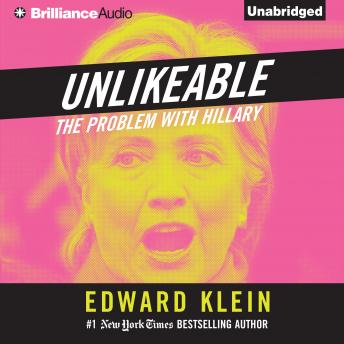 Duration:
5 hours 10 minutes
Summary:
In this stunning exposé of Hillary Clinton and her floundering race for the White House, New York Times bestselling author Edward Klein-one of America's most respected investigative journalists-whisks the reader behind the scenes and reveals in colorful detail and meticulously re-created conversations the plots and secret plans hatched at the Clinton homes in Chappaqua and Whitehaven and in the family quarters of the Obama White House.

With unprecedented access to personal friends and longtime associates of the Clintons and the Obamas, Klein draws a troubling portrait of Hillary Rodham Clinton, a highly unlikeable presidential candidate and a woman more associated with scandal than with accomplishments, with lying than with truth, with arrogance than with compassion.

Among the many startling revelations in Unlikeable:

- How Obama's consigliere, Valerie Jarrett, leaked damaging information to the media about Hillary's use of a private e-mail account as secretary of state and foreign donations to the Clinton Foundation

- The reason Hillary stormed out of the Oval Office after a meeting with Obama

- Why Bill Clinton helped arrange "likeability" lessons for Hillary with Steven Spielberg

- Which Republican candidates the Clintons fear most

- How Barack and Michelle Obama and Valerie Jarrett are trying to enlist a candidate to beat Hillary in the Democratic Party primaries

- Why Bill is ambivalent about the prospect of Hillary becoming president

- How Hillary helped steer business to her cronies while secretary of state

- How failing health-both Bill's and Hillary's-could derail the Clinton campaign for president Klein's unparalleled reporting and penetrating insights make Unlikeable must reading-and raise profound questions about Hillary's fitness for the highest office in the land.
Genres: