The Wall Street Diet
Unabridged Audiobook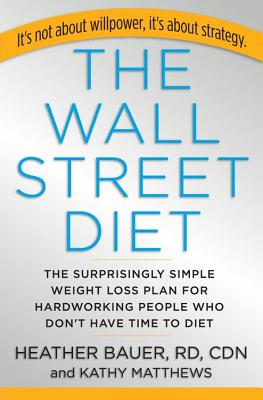 Duration:
6 hours 1 minutes
Summary:
IS 'WEIGHT LOSS' ON YOUR TO-DO LIST?

'The Wall Street Diet taught me to make healthy choices without feeling deprived'I highly recommend it.''Scott Kalish, MD, Corporate Medical Director

The breakthrough weight loss plan for people who don't have time to count calories, The Wall Street Diet helps listeners lose weight, keep it off, and still keep up with their fast-paced lives. The Wall Street Diet will show you how to:

Master the ins and outs of eating out.

Trim the fat from your business trips.

Overcome jet lag-induced overeating.

Avoid tempting hotel food.

The Wall Street Diet provides a framework of simple but powerful strategies that will keep you on track, all the time. The first diet to address real-life obstacles, it gives specific, proactive ways to gain control over situations that can spell diet disaster. And because The Wall Street Diet understands that the real secret to losing unwanted pounds is making sound decisions every day about what you love to eat, it will become a seamless part of your lifestyle, not an add-on project to your already full schedule.
Genres: