The Wealth of Nations, Part 1
Unabridged Audiobook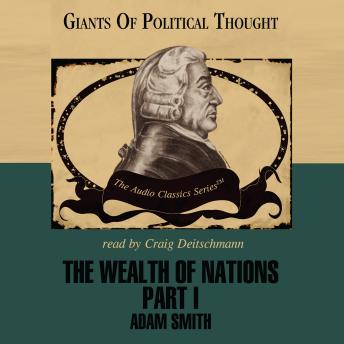 Duration:
2 hours 30 minutes
Summary:
An Inquiry into the Nature and Causes of the Wealth of Nationsis the foundation of classical economics, and it has influenced a broad range of thinkers. In it, Adam Smith stresses the importance of the division of labor to economic progress. He criticizes the arguments for economic planning and offers a detailed theoretical and historical case for free trade.Far more than just a work on economic theory,The Wealth of Nationsalso contains Smith's views on philosophy, history, and political theory.

This program discusses Smith's general approach to philosophy and howThe Wealth of Nationsfits into that approach. It then goes on to cover Smith'smajor themes in thislengthy and complex book. Smith's sometimes difficult discourse is presented with the background information necessary for its comprehension.

The Giants of Political Thought series is an easy and entertaining way to broaden your mind and your awareness of great ideas.
Genres: