The Wealth of Nations, Part 2
Unabridged Audiobook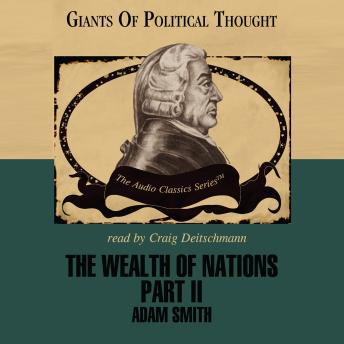 Duration:
2 hours 30 minutes
Summary:
An Inquiry into the Nature and Causes of the Wealth of Nations is one of the most important and influential works ever published on economic theory. A masterpiece of the eighteenth-century Scottish Enlightenment, it develops a theory of social order arising from the unintended consequences of self-interested behavior. This self-regulating system of the free market, Smith contends, protects consumers from entrenched special interests and is usually harmed by government intervention.

This program examines explains Smith's major arguments and provides background necessary for comprehension. Each of the five books of The Wealth of Nations is covered in order to explain how the seemingly diverse themes relate to Smith's general purpose.

The Giants of Political Thought series is an easy and entertaining way to broaden your mind and your awareness of great ideas.
Genres: