Witness
Unabridged Audiobook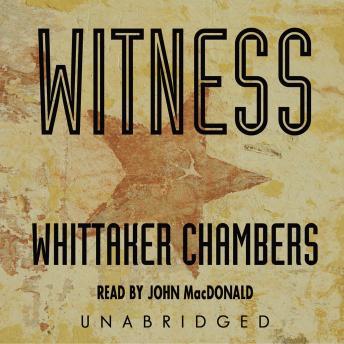 Duration:
30 hours 20 minutes
Summary:
Whittaker Chambers' harrowing account of his journey to hell and back-through espionage, treason, and terror-is, ultimately, a story of faith.

First published in 1952, Witness came on the heels of America's trial of the century, in which Whittaker Chambers accused Alger Hiss, a full-standing member of the political establishment, of spying for the Soviet Union. In this penetrating philosophical memoir, Chambers recounts the famous case as well as his own experiences as a Communist agent in the United States, his later renunciation of Communism, and his conversion to Christianity. Chambers' worldview-'man without mysticism is a monster'-helped to make political conservatism a national force. Witness packs the emotional wallop and the literary power of a classic Russian novel and has gained Chambers recognition by critics on both sides of the spectrum as a truly gifted writer.

Witness is part spiritual autobiography, part spy thriller, and part trial drama, told in a compellingly eloquent, deeply moving voice of Dostoyevskian power.
Genres: