Words of Wisdom: My 2¢ on the Television Biz
Unabridged Audiobook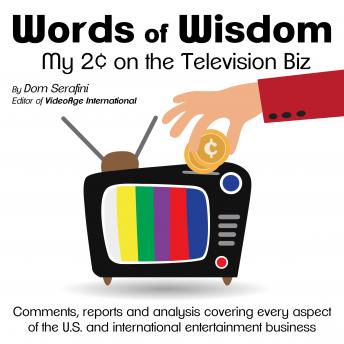 Duration:
4 hours 23 minutes
Summary:
Usually authors write books with the intent to please readers. Dom Serafini's new book, My 2¢ of Television Biz Wisdom, is intended to upset most of them one way or another. This follows the dictum of several advertisers in his publications to never to place their ads facing Dom's "My 2¢" editorials, or risk that their clients view the ads in a state of irritation.

This collection of "My 2¢" is Serafini's seventh book and it's about television, where experts and laymen alike will find something to be upset about. It's about entertainment, politics, regulations, finance, economics, advertising, acting, critics, executives, production, distribution, trade shows, new and old technologies, religion, creativity, various cultures, worldviews, PR, news, printed media and common sense. Yes, just 2¢ of common sense. It is intended to stimulate readers and to dispel the notion that television is an arid topic at the bottom of the intellectual totem pole. As a precaution, it is advisable to read this book before meals in order to avoid indigestion.

The author, Dom Serafini, is the Editor-in-Chief of VideoAge. Defined as "The Business Journal of Television," it publishes a Monthly (www.VideoAge.org) the world's second-largest professional international TV trade publication, and VideoAge Daily (www.VideoAgeDaily.com), the TV trade show market Daily. Both publications are based in New York City. Serafini is also a contributor to publications in the U.S. (New York, Los Angeles, Las Vegas), Canada and Italy. Before founding VideoAge, Serafini was the International Editor of TV/Radio Age.

The collection features more than 180 editorials among the 615 or so that he wrote since founding VideoAge in 1981.
Genres: