World Codex: Special Edition
Unabridged Audiobook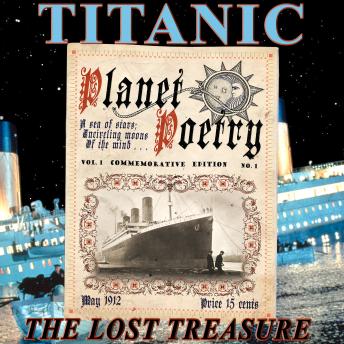 Duration:
0 hours 59 minutes
Summary:
Discover the surprising literary and poetic history of the RMS Titanic!

Imagine getting the inside, behind the scenes story of the Titanic tragedy written by those who did not survive - but whose poetry and short accounts of the moments leading up to the Titanic sinking did.

'If you love poetry, history, and feeling like Indiana Jones, read this book now.' 5 Stars from Erin Nicole Cochran for Readers' Favorite

The time has finally come to share the World Codex' revelations with the public at large. Codex SE is a concerted work of dedicated people who have worked tirelessly to bring this literary publication to the world stage. My connection to Titanic, through my great-grandfather's experience, has played an essential role as to who I am, cultivating an awareness of the importance of art as it inspires the better nature of humanity - through life's inevitable turmoil and even disaster.

Discover unpublished poems and prose by historical figures including Albert Einstein, George Bernard Shaw, Edgar Allan Poe, Sylvia Barrett, Herman Holmes, Robert Wolcott, and many more.

The World Codex 'Planet Poetry' publication encapsulates a snapshot of the era shortly after the turn of the 20th century and is a gem of historical maritime poetry. In this recently discovered history, previously unpublished works by celebrities of its day make the doomed publication an echo of the fate of the Titanic herself. Had it not been for the controversy that forced the publication to be shelved, perhaps the world would have recorded history a bit differently.

Included among the poems is a first-hand account of how the collection was rescued from the ship shortly before her untimely demise. Later research into the chain of events culminated in a backstory that exacerbated the drama around the on-board Titanic poetry contest.

Discover the surprising literary and poetic history of the RMS Titanic! Buy World Codex Special Edition now for the previously suppressed inside story.
Genres: