The Worst-Case Scenario Survival Handbook: Dating & Sex
Unabridged Audiobook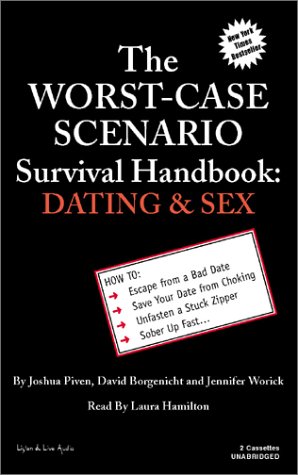 Duration:
2 hours 26 minutes
Summary:
Don't get caught with your pants down! Keep this audiobook under the pillow, in the glove compartment, and anywhere you might encounter the perils of romance. Experts provide instructions on what you need to know fast, like how to fend off a pickup artist, how to have sex in a small space, how to deal with a cheating lover, how to remove difficult clothing, how to survive an obsessive ex, how to survive if you wake up next to someone whose name you don't remember. Plus a handy appendix of body language, pickup lines and useful excuses.

The authors have appeared on 20/20, Today, National Enquirer TV, as well as in Time, USA Today, The New Yorker, People, Forbes, The Washington Post, Glamour and Entertainment Weekly.

Their previous books, The Worst-Case Scenario Survival Handbook and The Worst-Case Scenario Survival Handbook: Travel have been #1 Los Angeles Times Nonfiction Paperback Bestsellers, #1 Amazon.com Nonfiction Paperback Bestsellers, New York Times Best-sellers, Publishers Weekly Best-Sellers and USA Today Best-sellers.
Genres: