The Writer's Advantage: Harness the Power of the Written Word
Unabridged Audiobook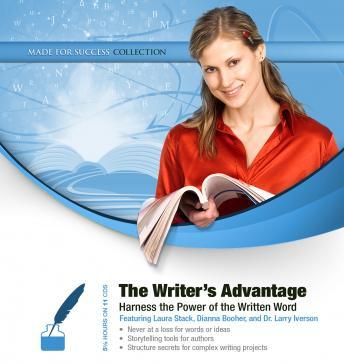 Duration:
5 hours 43 minutes
Summary:
Includes a PDF workbook

Do you have a story waiting to be told but know your writing skills need improvement? This expert resource will help you develop both your technical and creative writing skills. Bestselling authors reveal entertaining and informative methods to craft a story, organize complex thoughts, and write effectively to engage your readers.

How to effectively write a book, essay, or business plan does not need to be a mystery. Learn a foolproof system for taking highly complex ideas and plots and organizing them into a cohesive flow that is easy for readers to digest.

Let Dianna Booher, author of over forty books, share her insights on transferring ideas from your head onto paper. You will understand the psychology of the written word from the perspective of psychologist Dr. Larry Iverson and gain insights from bestselling author Laura Stack, The Productivity Pro, on how to turn a complex writing project into a manageable task within your normal workday.
Genres: