A Year with Peter Drucker
Unabridged Audiobook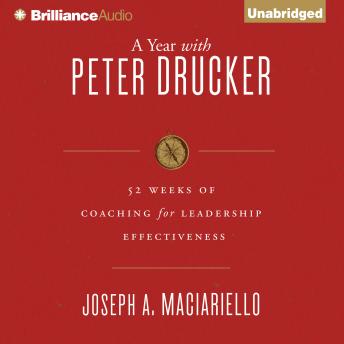 Duration:
11 hours 11 minutes
Summary:
Peter Drucker was the original big thinker. His ideas on management, innovation, leadership, effectiveness, and adapting to change formed the foundations of modern business wisdom. Drucker was also a mentor to many notable leaders in business, government, and nonprofits, a role he valued tremendously. In A Year with Peter Drucker, you will get to experience his mentorship process firsthand as his longtime collaborator Joseph A. Maciariello leads you from week to week, lesson to lesson, using previously unpublished material and selected readings from Drucker's classic works to highlight critical lessons in leadership, personal effectiveness, and mission-driven strategy.

Joseph A. Maciariello has distilled the essence of Drucker's personal mentorship program into an easy-to-follow 52-week course. Each week contains a lesson, message, or anecdote taken from Drucker's extensive body of published and unpublished work, moving from theme to theme throughout the year.

The year will cover the themes Drucker felt were most important to leadership development, such as:

• Leaders must set sights on the important and not the urgent. This is a key differentiator of moving from being a functionary to being a leader.

• Management is a human activity. Process must serve people, in and out of the organization.

• The road map to personal effectiveness depends on a clear mission and on doing the right things, not just getting things done.

• Management succession, especially to top positions is a crucial decision and often a big gamble. It's worth your time to get it right.
Genres: