Zak Bates Eco Fantasy Adventure Series: Fantasy Adventure Series
A free trial credit cannot be used on this title.
Unabridged Audiobook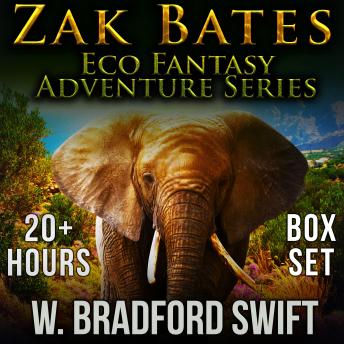 Duration:
20 hours 15 minutes
Summary:
Ra-Kit's Initiation

Ra-Kit claims to be the last living magic cat.But where did Ra-Kit's magic come from? Is she really five hundred years old or is that just part of the mythology she's woven for herself?

Dominion Over All

Despite running his own zoo, Zak Bates considers himself pretty normal for a thirteen-year-old. Visited by Ra-Kit, a scruffy feline with some serious catnip issues, he's ill-prepared for the life-or-death assignment that follows. With the weight of the world on his shoulders, Zak must represent the Animal Kingdom at a United Nations Conference on Global Warming, convince the world government to stop poisoning the planet, broker interspecies peace, and diffuse an impending, bloody rebellion.

Endangered

For Zak Bates and his magical friends, the next eco-adventures is usually right around the corner. In Zanesville, Ohio, a dangerous menagerie has escaped from a private preserve, and the situation threatens to spiral out of control. Francis, a spirit bear from British Columbia is being held captive, and, to free him, the Eco-Adventurers will need to align with Chatters, a white squirrel.

Ghost Elephant

Nia Gaines is the newest member of Zak Bate's Eco-Adventure task force—it's only, she doesn't know it yet. When Nia's parents drag her along on a business trip to China, the source of their affluence soon becomes clear: ivory, prized since ancient times for its beauty and never before so rare. In Beijing's back-alley curio shops, the prices are great...but what's the cost?

Junkyard Dogs

As the head of an eco-team that's been tasked to overcome global warming and protect endangered species, Zak Bates is as busy as ever. Despite much help from a truly stellar multi-species coterie, his life, in a word,is wild, and it seems that things are about to get hairier.
Genres: