Spin Cycle: Inside the Clinton Propaganda Machine
Abridged Audiobook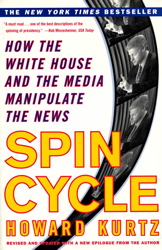 Duration:
3 hours 0 minutes
Summary:
Bill Clinton is the most investigated president since Richard Nixon—facing inquiries into Whitewater, campaign fundraising abuses, and sexual misconduct—and yet he began 1998 with approval ratings as high as those of Ronald Reagan. But the new year has brought a barrage of new allegations, and the president and his advisers face once again the challenge of spinning the news to their advantage, a challenge they have mastered many times before.

In Spin Cycle, award-winning Washington Post reporter Howard Kurtz reveals the inside workings of Clinton's well-oiled propaganda machine—arguably the most successful team of White House spin doctors in history. He pulls back the curtain on events and tactics that the administration would prefer to keep hidden, including:


- A tense, almost paranoid White house atmosphere in which the spinmeisters do not question the president about the various scandals because they don't want to learn information they might have to reveal to prosecutors or the press.

- Bill Clinton's success in reaping favorable publicity by secretly courting selected reporters and columnists in off-the-record White House Meetings.



Spin Cycle is an all-too-human drama in which political operatives wrestle with their consciences as they struggle to protect the boss. As the scandal drums beat louder and louder, Kurtz tells what it takes for the president and his people to survive, and what happens to the truth along the way.
Genres: