Dr. Fulford's Touch of Life: The Healing Power of the Natural Life Force
Abridged Audiobook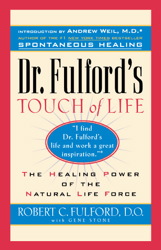 Duration:
1 hours 30 minutes
Summary:
Ninety-one-year-old Dr. Robert Fulford has spent more than fifty years successfully treating patients failed by conventional medicine. In Dr. Fulford's Touch of Life, this sage physician provides strategies to attain and sustain optimum good health, and offers groundbreaking advice on integrating natural healing methods with modern health care.

Dr. Fulford's Touch of Life includes:



- Why our natural state is always good health, and how to foster it

- The vital role of breathing in sustaining good health

- Why any trauma can adversely affect us, even years later

- How negative thought patterns can disrupt the body's chemistry -- and how to overcome them

- The link between spirituality and good health -- and how to create it



Sure to become a classic, Dr. Fulford's Touch of Life is framed in the plain language, original thinking, and keen common sense that have characterized Dr. Fulford's remarkable career in medicine.
Genres: