Giving the Love That Heals: A Guide for Parents
Abridged Audiobook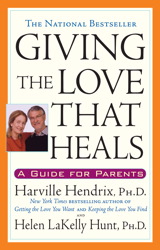 Duration:
3 hours 0 minutes
Summary:
Harville Hendrix has illuminated the paths to healthy, loving relationships in his New York Times bestsellers Getting the Love You Want and Keeping the Love You Find. Now, he and his coauthor and wife, Helen Hunt, bring us to a new understanding of the most profound love of all -- by helping parents nurture their own development as they encourage emotional wholeness in their children.
In Giving The Love That Heals, Harville Hendrix and Helen Hunt help us explore:
• Maximizer and Minimizer parents -- the defensive styles that internally shape what we say and how we interact with our children.
• Safety, Support, and Structure -- how to give children what they really need from us.
• Modeling Adulthood -- recovering our innate wholeness to provide a model of adulthood for our children that will preserve their innate wholeness.
In this profound, groundbreaking audiobook, Harville Hendrix and Helen Hunt lead us through an extraordinary process of growth as we help our children to become healthy, responsible, and caring people.
Genres: