Jinxed
Abridged Audiobook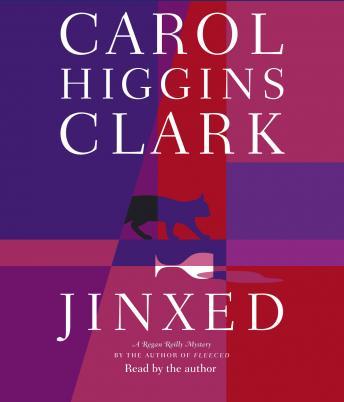 Duration:
4 hours 30 minutes
Summary:
Carol Higgins Clark bestselling author of Fleeced and co-author with Mary Higgins Clark of He Sees You When You're Sleeping, returns in top form in her new Regan Reilly mystery, blending her talent for intriguing locales, eccentric characters, and fast-paced suspense laced with humor.
In Jinxed, smart, saucy sleuth Regan Reilly faces a new challenge -- the case of the missing wedding guest.
Regan, an L.A.-based private detective, returns to her office after a vacation with her beau, Jack 'no relation' Reilly. Their tour of the wineries in Napa Valley and Santa Barbara County includes a stop at Altered States, a run-down winery owned by three siblings who are all former hippies -- Lilac, Earl, and Leon Weldon.
Regan is barely in her office when she gets an excited call from Lilac. The Weldon family has been invited to the wedding of ninety-three-year-old Lucretia Standish, a former silent-screen star, who made a killing in a dot-com before it went bankrupt and plans to give the Weldons $2 million each -- if they all show up at her wedding which is two days away. However, Lilac's daughter Whitney, aka Freshness, a young actress, is out of touch and goes where the wind blows. If it doesn't blow her back into town by Sunday morning, the Weldon family will be out $8 million.
Regan's job is to find Whitney. But Lucretia's fiancé, the much younger Edward Fields, is also on the hunt. He's hired an accomplice in crime to locate Whitney and get rid of her.
With Jinxed, Carol Higgins Clark is at her very best.
Genres: