Carolyn 101: Business Lessons from The Apprentices Straight Shooter
Abridged Audiobook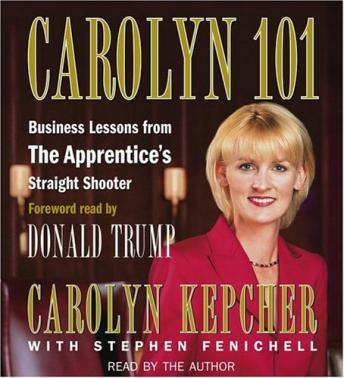 Duration:
5 hours 0 minutes
Summary:
Known to the millions of viewers of the hit reality television show The Apprentice, Carolyn Kepcher attracted enormous media attention for her cool demeanor and her no-holds-barred assessments of the show's candidates in the boardroom each week. In Carolyn 101, the woman Donald Trump has described as a 'killer' businesswoman reveals the secrets of her success.
Geared toward those just entering the workforce or seasoned employees looking to distinguish themselves, Kepcher's book provides readers with guidance for their professional lives. Illustrating her advice with examples taken from her own career, she shows them how to:
- ace an interview
- deal with a difficult boss
- maintain a healthy balance between work and home life
- spot potential business opportunities
- be a strong team member or team leader


Straightforward and inspirational, Carolyn 101 shows ambitious professionals what they need to do to get ahead and take their own careers even further than they had imagined.
Genres: