Father's Day: A Journey into the Mind and Heart of My Extraordin
Unabridged Audiobook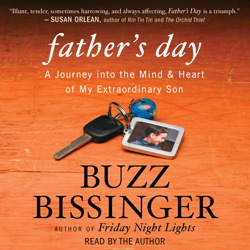 Duration:
9 hours 0 minutes
Summary:
Acclaimed Friday Night Lights author Buzz Bissinger shares the moving and uplifting tale of his cross-country journey with his adult savant son who suffered brain damage at birth.

Buzz Bissinger's twin sons were born three minutes—and a world—apart. Gerry, the older one, is a graduate student preparing to become a teacher. His brother Zach has spent his life attending special schools. He'll never drive a car, or kiss a girl, or live by himself. He is challenged by serious intellectual deficits but also blessed with rare talents: an astonishing memory, a dazzling knack for navigation, and a reflexive honesty, which can make him both socially awkward and surprisingly wise.
One summer night, Buzz and Zach hit the road to revisit all the places they have lived together during Zach's twenty-four years. Zach revels in his memories, and Buzz hopes this journey into their shared past will bring them closer and reveal to him the mysterious workings of his son's mind and heart.
As father and son follow a pinball's path from Philadelphia to Los Angeles, they see the best and worst of America and each other. Ultimately, their trip bestows a new and uplifting wisdom on Buzz, as he comes to realize that Zach's worldview, as exotic as it is, has a sturdy logic of its own, a logic that deserves the greatest respect. And with the help of Zach's twin, Buzz learns an even more vital lesson about Zach: character transcends intellect. And we come to see Zach as he truly is—patient, fearless, perceptive, and kind.
Genres: