The New Rules of Divorce: 12 Secrets to Protecting Your Wealth, Health, and Happiness
Unabridged Audiobook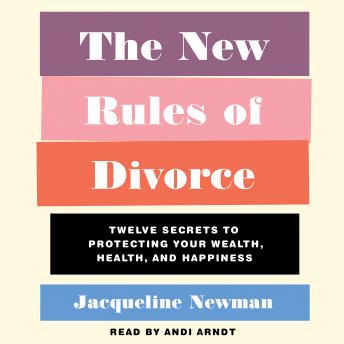 Duration:
7 hours 36 minutes
Summary:
"You can waste vast amounts of money by hiring the wrong lawyer while engaging in a high conflict divorce. Newman shows people the playbook and provides real tactics for breaking up in a more humane fashion." —Alec Baldwin, actor, producer, New York Times bestselling author

The definitive guide to navigating divorce in today's world from one of America's top matrimonial lawyers.

Marriage as we know it in America has changed—and so, too, has divorce. Women are outearning men. Fathers are winning custody battles. Same-sex marriage is law. In this remarkably insightful and clear guide, elite New York City divorce attorney Jacqueline Newman shares her secrets from over two decades in the trenches. This book will help you:

-Decide whether you are actually ready to get a divorce
-Protect your finances and understand division of assets
-Find the right lawyer for your situation
-Win the child custody schedule you want
-Heal and stay sane in the midst of a disorienting time

Over the course of her career, Newman has implemented her strategies and coached her clients round the clock on how to navigate every aspect of their divorces. Now, in this landmark book, she offers the same tools and tactics to you. Newman also shines a light on the divorce industry where specialists of the trade financially benefit from drawn-out, high conflict cases. "Divorce," she says, "can be simple, even if it is not amicable."

Filled with hard-earned wisdom and a touch of humor, The New Rules of Divorce is an essential read for anyone looking to emerge from their breakup stronger, happier, and secure.
Genres: