13 Bullets: A Vampire Tale
Unabridged Audiobook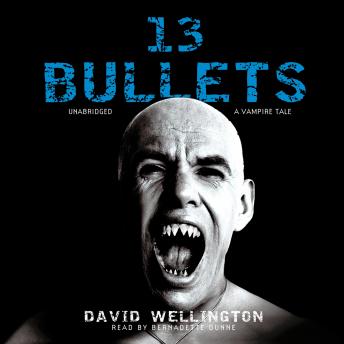 Duration:
11 hours 22 minutes
Summary:
Arkeley nailed the last vampire, in a fight that nearly killed him. But the evidence proves otherwise.

When a state trooper named Laura Caxton calls the FBI looking for help in the middle of the night, it is Arkeley who gets the assignment. Who else? He's been expecting such a call to come eventually. Sure, it has been years since any signs of an attack, but Arkeley knows what most people don't: that there is one left. In an abandoned asylum, she is rotting, plotting, and biding her time in a way that only the undead can.

Caxton is out of her league on this case and more than a little afraid, but the Fed has made it plain that there is only one way out. The worst thing, though, is the feeling that the vampires want more than just her blood. They want her for a reason, one she can't guess … a reason her sphinxlike partner knows but won't say … a reason she has to find out—or die trying.

Now there are only thirteen bullets between Caxton and Arkeley and the vampires. There are only thirteen bullets between us, the living, and them, the damned.
Genres: