2010: Take Back America: A Battle Plan
Unabridged Audiobook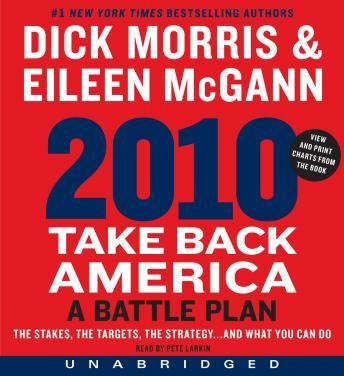 Duration:
10 hours 5 minutes
Summary:
The battle is coming. Casting your vote in the November 2010 election may be the most important thing you do all year. These elections will be the critical turning point for America's future. They're our chance to take back America. Dick Morris and Eileen McGann outline a strategy for victory—explaining the pitfalls and walking us through a path to winning control of Congress.

The stakes: We face permanently high unemployment, socialized medicine, rampant inflation, perpetual debt slavery, and a European-style government-run economy.

The targets: Thirteen Senate seats and fifty-four House races will determine control of Congress.

The strategy: Make Obama the issue. Attack his policies at their weakest points. Nationalize the campaign. Stay on the offensive.

Your campaign: Politics is no longer a spectator sport. 2010: Take Back America is the training manual you need to win.

In 2010, you are the campaign. America is the battleground. And we must prevail.
Genres: