25 Conversation Starters: Open People up with the Right Question at the Right Time
Unabridged Audiobook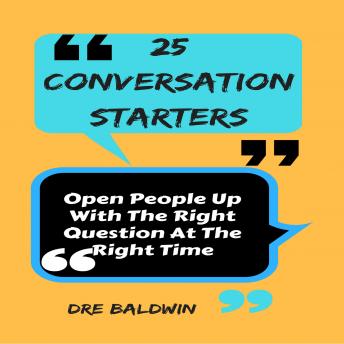 Duration:
1 hours 21 minutes
Summary:
Conversation is simple and easy. We share things with others, and others share things with us. It doesn't always work out this simply, of course, but this is who we are at our cores. 
Humans are social creatures; we share. Verbal communication played a significant role in all your biggest life achievements. The sexiest guy or girl you've dated. The most money you ever made. The happiest you've ever been. Didn't all of these come, in whole or in part, from some amount of conversation? 
Who are your best friends? Your closest relatives? And how did they become so close and important to you? From conversation! 
So, knowing how important conversation is, why do so many of us struggle with it? We think too damn much. 
About? 
What the other person might think of us How we might sound stupid If this is a dumb question Possibly being turned down for something The fear of the unknown Eliminate these fears, and conversation is easy. These fears are mostly based in a lack of knowledge. A lack of knowledge in how to start a conversation and how to keep conversation flowing. But you downloaded this book. So that fear will be gone very soon. 
Verbal communication is the skill which keeps humans at the top of the food chain. Without it, we would be prey to the many bigger, stronger and faster animals we see on National Geographic. 
The most successful people we know are the best communicators. They're the people who can best get their point across. The ones who are good at persuasion. People can make people feel things - happiness, anger, sadness, motivation. The best communicators make their every communication feel like a personal conversation with you. 
True or not true? 
Genres: